About WWNTBM
World Wide New Testament Baptist Missions is a missions service agency, serving local churches by assisting them in getting their missionaries to the field.
Our ministry is to maintain a mission agency that promotes the work of missions through presenting needy fields, surveying new fields, enlisting laborers, and assisting missionaries on deputation and on the field. We seek to awaken a vision of the needs of the world through printed materials, personal interviews, and mission conferences.
Helping Your Church Bring The Light to Darkness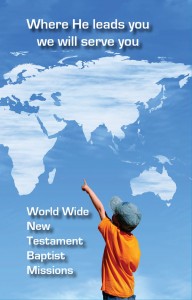 Since 1971, our agency's goal has been to assist independent Baptist churches in getting their people to the mission field.
We believe that the church is the sole earthly authority in missions. Our conservative views on doctrine, the Word of God, standards, and music have been in place since our inception. We do not plan to change.
You may view this brochure online right here. If you are interested in obtaining printed copies of this brochure, please email us.
What Makes Us Different?
We are WORLD WIDE in our Perception…
We assist 98 families serving in 37 countries on 6 continents. We believe that our Lord intended for His churches to send missionaries to every country of the world. Missions is a world-wide effort for churches to send missionaries with the Gospel to the world.
We are NEW TESTAMENT in Principle…
We believe the Holy Spirit calls out missionaries from churches today. We believe the church, not a mission agency, must send out missionaries. We seek to follow no other principles in missions but New Testament principles.
We are BAPTIST in Practice…
We are Baptist by conviction. We make no apology for this. We hold to the historic Baptist position in matters of eternal salvation, Scripture, separation and His second coming.
We know MISSIONS is our Purpose…
We are a faith mission endeavoring under the authority of the Bible to assist fundamental Baptist churches in sending out missionaries. We will not supersede the local church.
Our Heritage and Distinctions