Missions Support and the Local Church: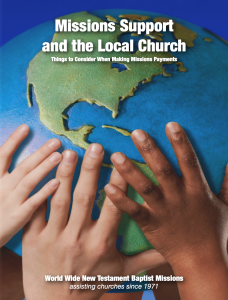 Click here to read a summary of things to consider when making missions support payments.  God's work of missions is supported by the giving of His people.  We believe this document will assist donors as they focus on giving to those who are going into all the world.  You can donate to WWNTBM through any of the following methods.
By Credit Card
Choose a missionary below and click the Give Button.
Give a single gift, or set up recurring automated giving.
Please take a moment to select the "Remember Me" option, to make future donations easier.
Please note that our credit card processing company does take a small fee out of each donation, and your tax-deductible receipt will show a slightly lower amount than the one given. You may choose to cover that fee, above your donation amount, by selecting the prompt on the following screen.
If you would like to give to a missionary or project not listed below, please choose General Office Fund. Then, in the "Notes/memo" section, include a note specifying the missionary or project.
Note: At the bottom of the donation screen, you can also choose to give via a bank account by clicking the white icon. Please note that processing fees may still apply.
By Checking Account (ACH Debits)
This may be for one time donations, or for recurring donations.
Download a PDF form here.
After completing the form fax it to 704-730-1479 or mail it to us at PO Box 725, Kings Mountain, NC 28086.
By Mail
Please make all checks payable to "WWNTBM."
Be sure to indicate the missionary to whom you wish to donate.
Donations may be mailed to the address below.
World Wide New Testament Baptist Missions
P.O. Box 725
Kings Mountain, NC 28086
In Canada
Please make checks payable to "WWNTBM."
Include a separate letter indicating the project number to which you would like to donate.
For a list of project numbers, please 

email our Canadian office

, or call 705-849-9395

.

Please do not include any designation on the check itself.
Donations may be mailed to the address below.
World Wide New Testament Baptist Missions of Canada, Inc.
P.O. Box 116
Elliot Lake, ON P5A 2J6
CANADA